Prof. Mons Fabbri Guest of Honour of a Seminar at the Lisbon State University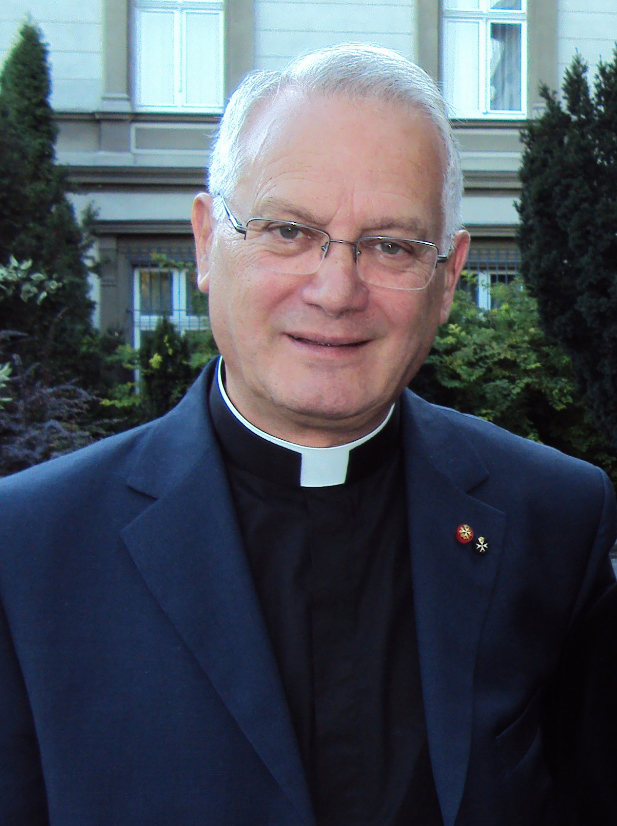 On the 26th of January 2012 the Most Reverend Monsignor Fabio Fabbri, Professor of our Pro Deo State University and Prelate of Honour of His Holiness the Pope, delivered the opening and most important speech at the Seminar " Deprivation of Freedom as Penal Sanction and the Dignity of the Human Person" organized by the Law Faculty of the Lisbon State University.
Both Professor Doctor Eduardo Vera-Cruz Pinto, Director of the Law faculty and Professor Doctor Pedro Romano Martinez, President of the Scientific Board of the Faculty, have made an the subject of the Seminar and have introduced the Most Reverend Mons. Fabio Fabbri to the audience.
The first part of this Seminar, which took place in the Auditorium of the Law Faculty, consisted only of the speech of the Most Rev. Mons. Fabbri, and at the Speaker's Table were also Professor Master Susana Videira, representing H.E. the Minister of Justice of Portugal and Prof. Doctor Maria Fernanda Palma, Full Professor of the Law Faculty ( photo below ). In his very interesting speech, enriched by episodes of his very long experience in this field, Monsignor Fabbri, touched deeply the audience by underlining the following points which can summarize the content of his verbal address : " ...the prisoner IS in the jail, but he does not BELONG to the jail ... ", ".... the imprisonment of a man has to be the LAST option of the Society ... " and also that "... sometimes a Penal Sanction is a form of social vengeance...".
The Second Part of the Seminar had speeches delivered by H.E. Judge Dr. Bravo Serra, Justice of the Supreme Court of Portugal and Vice President of the Superior Council of Magistracy of Portugal, by Prof. Doctor Barata Moura Full Professor and ex Rector Magnificus of the Lisbon State University, and by the Professors Doctors Martim Albuquerque and Maria Fernanda Palma of the Law Faculty.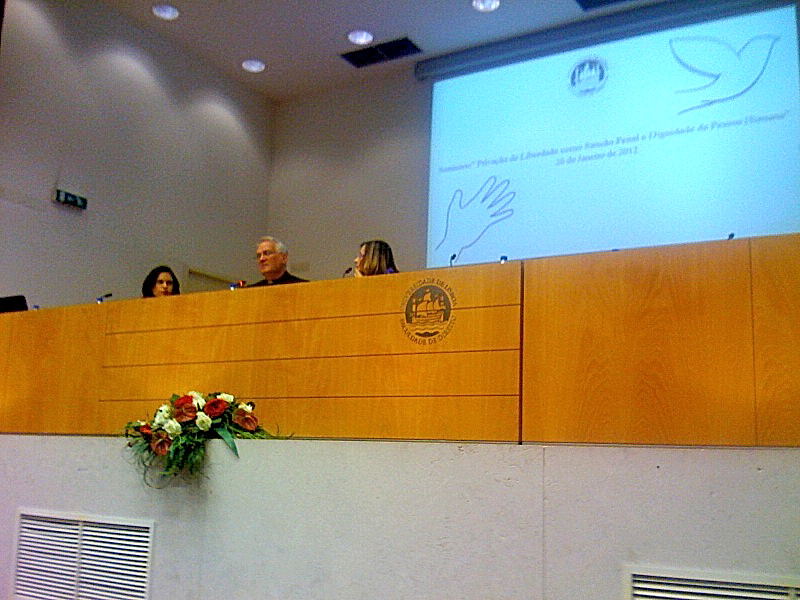 The Seminar was closed by Professor Doctor Edurado Vera-Cruz Pinto, after a debate directed by Prof. Doctor Augusto Silva Dias.
In the audience some very important guests were present, such as:
From Portugal:
Admiral José Torres Sobral, General Director of the National Security Authority of Portugal
Dra. Madalena Santos, representing H. E. the President of the Municipality of Lisbon;
Dr. Martins, representing the Council of the Courts of Peace and Inter-mediation of Portugal;
Mrs. Elisabete Oliveira, Counsellor of the Municipality of Oeiras;
Professor Doctor Gentil Martins, Dean of the Faculty of Medicine of Lisbon;
H.E. Dra Teresa Macedo, Pope's Counsellor for Family Affairs, Minister of Family Affairs of the Government of the State of the Federation ( KMFAP ) and President of the National Confederation of Family Organisations of Portugal
From abroad:
From Brazil: Professor Cláudio Brandão, of the Damas University of Recife State;
From Brazil: Dra. Natália Marques da Silva, representing the Law Faculty of the Pontificial Catholic University of São Paulo;
From KMFAP: Professor Doctor J. Cosmelli Rector Magnificus of the Pro Deo State University;
From KMFAP: Professor Doctor Maria Isabel Candeias, Full Professor of the Department of Veterinary Sciences of the Faculty of Medicine and Health Sciences of the Pro Deo State University;
From Italy: Professor Doctor Davide Cervi, Director of the Department of Penitentiary Studies of the Faculty of Juridical Sciences of the Pro Deo State University.
From Angola: a Magistrate presently in Lisbon